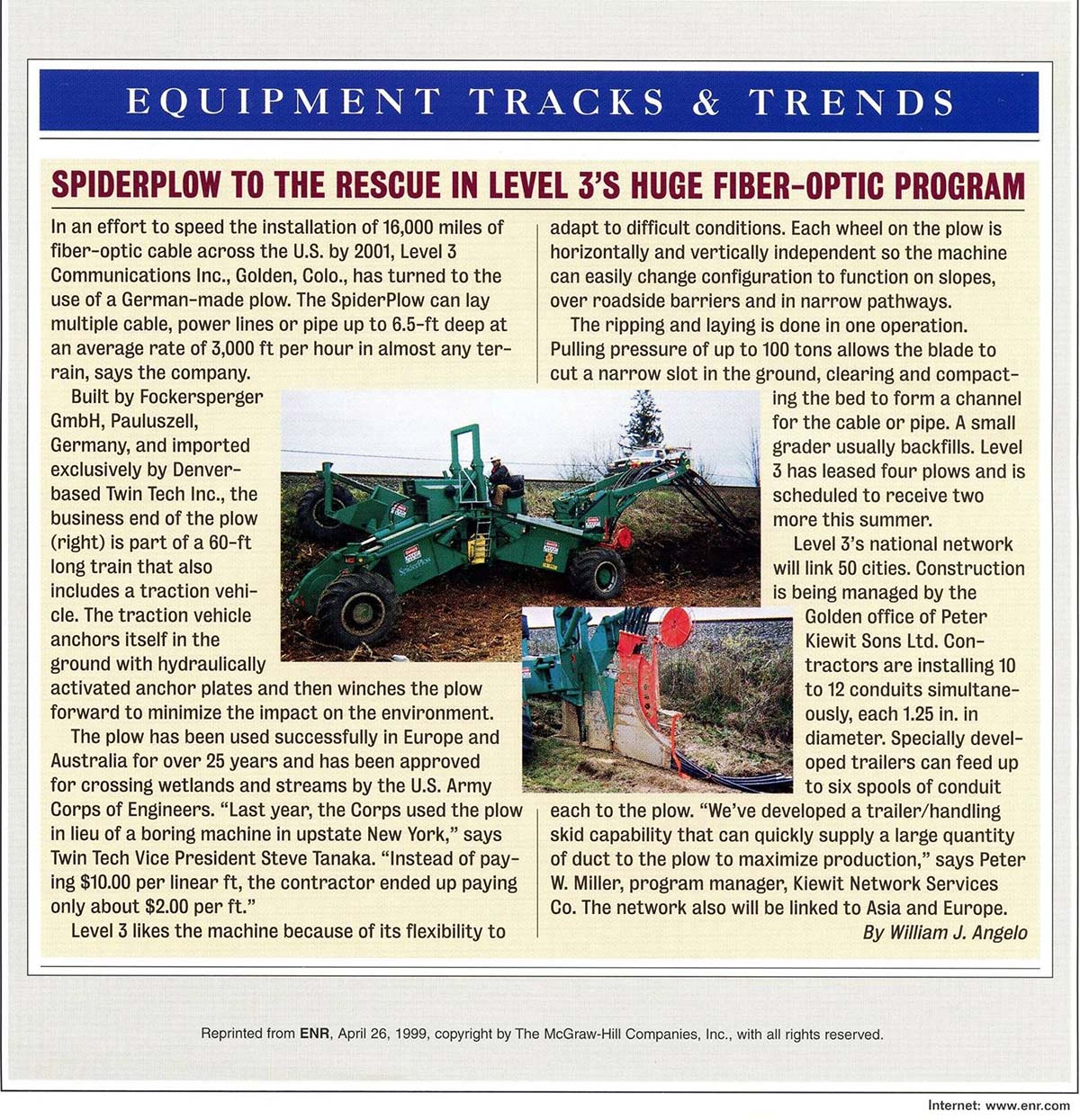 Challenge
SpiderPlow™, was the plowing sub-contractor for the Level 3 Communications project to build a new 25,000 kilometer fiber optic backbone network throughout the US between 1998 – 2002.
The biggest challenge was to operate safely along the world's busiest highways without interfering with traffic. An additional consideration was the environmentally sensitive nature of certain areas and the strict regulations governing them.
Expensive and time consuming Horizontal Drilling and Open Trenching needed to be kept to a minimum.
Due to the implementation of building a multiple conduit network, the installation quality and speed were main concerns.
The objective was to build this tremendous network within the given time frame of 4 years and within budget.
Challenge Resolution
The SPIDERPLOW's™ ability to adapt to challenging terrains such as slopes and ditches, plus the fact that it runs on rubber tyres, prevents damage to the road surfaces and keeps traffic disruptions to a minimum. Our health and safety commitment was very much in focus too, with not one injury or accident reported by any of the nine SpiderPlow™ installation crews working on the project.
The SPIDERPLOW's™ minimal construction footprint assisted in the client receiving Environmental Impact Studies findings and permits much faster than if they had been using traditional trenching techniques.
The capability of plowing in wetlands has saved the client not only lengthy environmental impact studies and permitting processes but also has dramatically reduced the need for costly and time consuming horizontal drilling.
Plowing of 12 conduits, then 24 and finally 48 simultaneously was easily achieved and meant Level 3 finished the project ahead of time.
Results
Simpler requirements resulted in faster permit issuing.
Unprecedented installation work rate of up to 13 Kilometres (8 Miles) in a single day with one SPIDERPLOW™.
Substantially reduced labourer and equipment involved, reducing costs and the risk of accidents.
Roads and transport authorities did not interfere with the construction process as they felt comfortable using a non-open trench installation method along their highways.
Level 3 employed several SpiderPlows™ on their projects throughout Europe and Asia after completion of the US Network.
As a result of the minimal EV impacts, the US Army Corps of Engineers, (responsible for maintaining US water and related environmental resources) recommended SpiderPlow™ as the preferred installation method in environmentally sensitive areas.